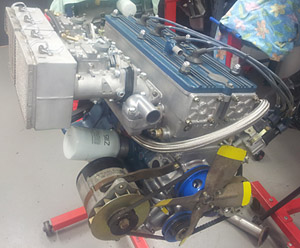 LZ18 Nissan engines first came to Australia for the 1975 Southern Cross International Rally powering two works Datsun Violet 710s - in some countries known as the Datsun 160J. The LZ is an interesting concoction from Nissan in that it was a custom built twin cam, 4-valve per cylinder head with quite a narrow valve angle, atop a modified L18B bottom end. Interestingly, the camshafts are driven by a chain of 7 gears plus 3 sprockets and a short double row chain at the top, and all this hardware produced a characteristic rattle at low revs in the rally version with its high lift valves but conservative timing. At first experience the rattle was rather disconcerting but became endearing to the many fans that followed the golden era of Australian rallying in which this engine played a leading role.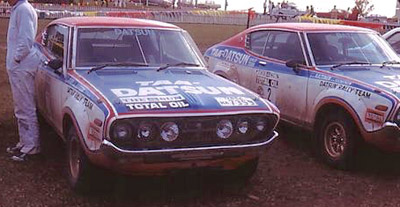 There were only sufficient of these cylinder heads created to enable it to comply with FIA homologation rules, so now, 40 years on, they have become a rare beast and highly sought after.
As the Datsun Rally Team transitioned to the Datsun Stanza in 1978 and began the now famous, multi season battle with the Ford Motor Co. BDA Escorts, the 4-valve head was adapted to the L20B bottom end in an effort to match the output from the venerable BDA.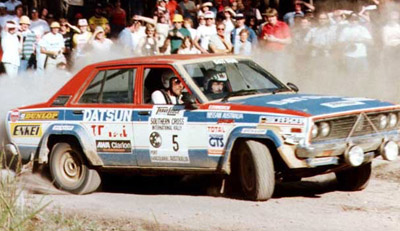 Competition in the forests around Australia in the early 80s was intense, fast and furious and the team was kept busy developing and maintaining two, and later, three cars. Engines were rebuilt almost continually with many parts being replaced - enough that an LZ20B engine was able to be assembled from discarded cracked and worn out parts, circa 1981. This inwardly tired but outwardly sparkling assemblage was crowned with a circular glass top and forced into duty as a coffee table - a task it performed silently for around 25 years.
When Neil Taylor acquired his 2-door 710 and began building it into a replica works rally car, the desire to complete it with an LZ engine was palpable. The story of the LZ20B coffee table was traced to its source and the engine was acquired for the project.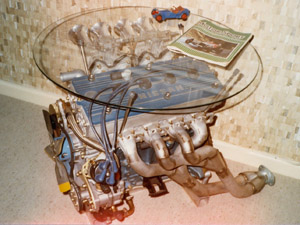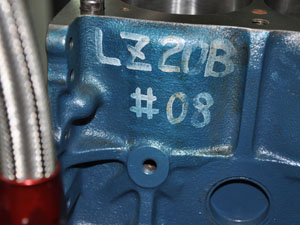 Getting it to rediscover its voice, and then to get it to produce the 240bhp of its heyday was a whole other story…
*******
Though already 89mm and worn, it seemed imperative to retain the engine block as it carries the works war paint and serial no. We decided to bore it another .5mm after sonic testing confirmed it was safe. New pistons were made with an appropriate bowl size to give the required 10.5:1 compression ratio.
The lightweight steel, 8-bolt crankshaft and special con rods had come from a catastrophic engine failure back in the day and were beyond saving - we had to go hunting for replacements. Rods were found in sports sedan racer, Barry Bray's collection and very luckily, another mockup engine was discovered in Japan that had a good crank and also an excellent bare cylinder head and we were able to part them from its owner. Very fortunate indeed as the head from the coffee table had dropped a valve and was far from well.
Then things got difficult. One of the cast aluminium cam carriers was in a very sorry state with extensive damage from an exploded cam bucket. It had been sleeved and welded and was now bent and twisted and badly worn. Much work went into welding new sleeves in place and getting the unit re-aligned and usable - it would have been more cost effective to machine up a new one but we wanted the engine to be as faithful as possible to the original.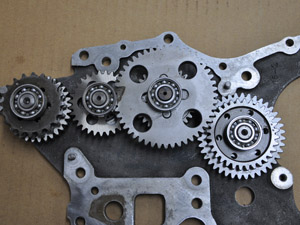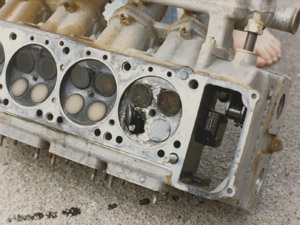 The next challenge was the cam drive gear train. We had about 5 sets of gears and housings available - all in rather poor condition, and ended feeling rather lucky again that we managed to make a good set after lots of crack testing, welding, machining and fitting new gear shafts, etc.
Our scouts also managed to track down an original works ignition CDI box so that we were able to use the full factory ignition system.
Everything was painstakingly checked and detailed but nothing over restored - everything looks exactly as it did when it was winning Australian Rally Championships against the Ford works BDA Escorts.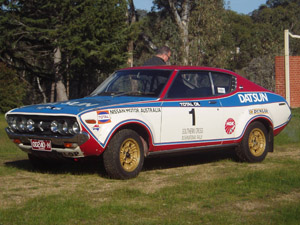 After running in on the dyno it was tuned and tested and is now happily at home in Neil Taylor's works replica Datsun 710. Other work has recently been completed to make the whole car as faithful as possible to the real thing.
A most satisfying outcome for all concerned.
And yes, it makes 241 bhp at 7500 rpm!