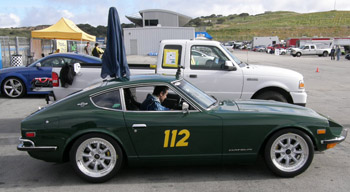 It's not hard to see that Greg Scott has a stirring passion for his 240Z. Theirs has been a long-term love affair. Fully committed to the spirit of the Z, Greg has been on a 17+ year journey of constantly improving all aspects including brakes and suspension while steadfastly resisting all temptations of different engines, forced induction or fuel injection for his beloved 240Z – widely known as the "The Green Hornet".
Attention was again focussed on the engine when old faithful of 17 years succumbed to a broken LD28 crankshaft.
He'd become jaded with the claimed performance BS from local engine builders servicing the racing scene in California, and as he started to explore his options it was looking like Kameari in Japan might be the go, but after a long delay in trying to get something underway there, a chance conversation on the 'Hybrid Z' web forum led Greg to contact Les Collins
To Greg's surprise his first long distance conversation with Les proved to be a revelation. Here was someone he could relate to, someone who was still making strident advances in L-series engine development, and someone who seemed committed to making his clients' motorsport ambitions a reality.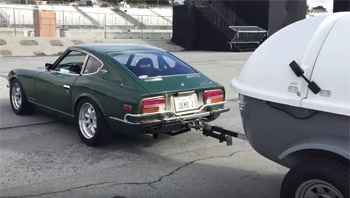 Part of the mystique around the Green Hornet is that it's road registered – Greg drives his Z on the road and also to the track. Wanting the absolute best of all worlds, and just for an extra challenge, he also wanted to be able to tow his trailer full of race wheels and tyres, tools, fuel, etc. to Leguna Seca, some 100 miles from where the Hornet lives in California. Now there was a challenge!
Typically, racing engines tend toward being ill-mannered and sacrifice performance at lower RPM, not to mention the increased exhaust noise. Indicative of Greg's commitment to an enjoyable road going experience and the original character of the Z is that the Hornet racer is fully lined with sound deadening material in doors, hatch, and floors.
Acceptable road car reliability was required as well as both engine and exhaust notes subtle enough for town and open road comfort, while providing race car performance. A further concern was the level of valve train noise. Greg had used most of the American cam grinder's offerings and always thought they made his engine sound like "a pile of dancing rocker arms about to fly apart". He was keen to try and avoid this with his new engine and was gratified to hear that Les had also experienced, and subsequently abandoned, American cams for this same reason. Having developed his own camshaft profile for big capacity L series Datsuns, Les was confidently able to promise a 600 thou lift cam that would be quiet, well behaved, and get the job done.
As discussions progressed it was agreed that Les would build a 3435cc engine with 90mm stroke and 90mm bore. Knowing that the new engine would have close to 30% more torque than Greg's previous 3 litre, Les knew he also needed to look into the Hornet's gearing.
After watching some YouTube footage of the Hornet from Leguna Seca, it became really obvious that the gear box ratios needed to be changed. The original S13 wide-ratio gear box needed to be replaced with something that would firstly cope with the expected torque and power and secondly, to make optimal use of the new engine's performance on the track.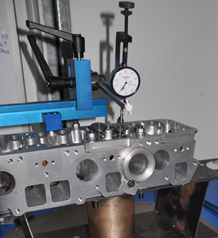 Since the mid-1980s, Les has continued to develop large capacity Datsun L4s for rallying in Australia and he knew how drivable these big engines are while still producing exceptional power. In recent years he'd begun to use this knowledge and experience on L6 engines, as interest in large capacity competition L28 engines emerged.
Always one to want to push the envelope, Greg decided to go with exploring the potential of the P90 head. So began the work to see if Les could get 400BHP intake flow. After moving the intake valves sideways and lots of work he achieved over 250 CFM at 28" - enough to potentially make the 400 BHP goal. With a port that out-flowed all other cylinder heads across the lift range, he attempted to replicate this with all six ports in the development head.
Soon though, it was discovered that the P90 head, like the L28 blocks, suffered from core shift - offset water jackets compared to the port runners - and it became apparent that plan A was heading back to the drawing board. Subsequent sectioning of this head confirmed the extent of the core shift and pointed to the challenges ahead.
Meanwhile, it was time to get the engine block underway. A block was needed that would bore to 90mm, and considering the core shift issues in both N42 and F54 blocks, finding one that would go to 90 mm was always going to be difficult. Only around 1 in 6 blocks can be successfully bored to 89mm, so one capable of 90mm is a rare beast.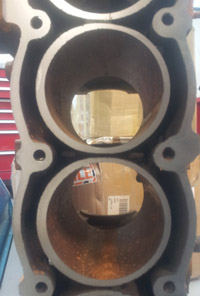 After a meticulous process of block selection involving hundreds of sonic wall thicknesses tests followed by painstaking calculation of bore offsets, a block was found that would do the job. (Notice core shift and wall thickness variance in pic at right.)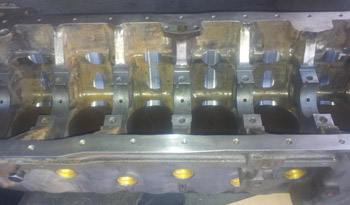 Also around this time, a 90mm stroke, steel billet crankshaft was started and forged pistons and Carrillo rods ordered. The inside of the block was then CNC milled to create the clearance the conrods required and allow the stroker combination to turn safely.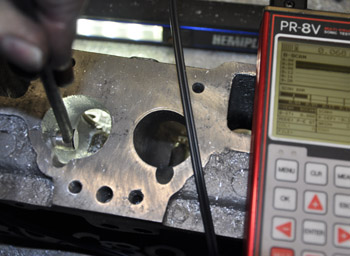 With a clear vision now of a 3435cc bottom end, Les now returned to the mission of making the best possible P90 head to suit. Given what had been discovered about inlet port thickness, Les proceeded to port a new head using the Sonic Tester to continually check for adequate wall thickness while seeking the required port cross sectional area, without compromising the flow. After painstaking work he was able to achieve 6 intake ports that flowed within +/- 1% and was satisfied this head would be up to the task.
From years of experience with these engines, Les knew that to get the power as well as the required drivability, the project needed a set of 50mm Solex/Mikuni carburettors. Never an easy item to find in Australia the search was broadened and a chance visit to the Japanese Yahoo site revealed a set of triples on a manifold and the challenge became to win them at auction. Anyone who knows what 50mm Mikuni sidedrafts are now fetching will understand this was a major investment, and winning the auction would prove a nerve wracking experience.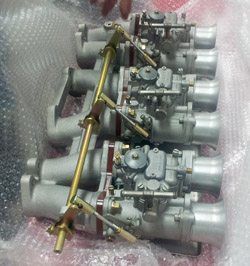 "Win the auction we did though! The anxiety then became about whether they'd arrive safely, and would they live up to our hopes… Several weeks later a large, beautifully packed box arrived and we were thrilled to discover inside, a set of pristine carburettors with sequential serial numbers – clearly the seller had respected them as much as we did! Another piece of the plan had come together."
With most of the components underway it was time to focus on the new gear box. Greg was insistent that the 'Datsun feel' shift quality of his S13 box be retained, so no Getrag sequential-shifting dog boxes thank you very much.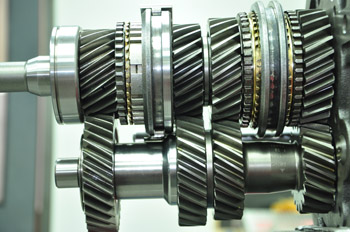 The new unit was going to be based on a Datsun Works, direct drive 5-speed, often referred to as an Option box (there were 3 ratio set 'options' produced back in the day). This box uses the same 71C case already used in the Hornet, allowing the new one to slot straight in. Inside though, very few original parts would be used.
2nd, 3rd, 4th and 5th were all to be wide gears as in all the late Model Nissan boxes and with double syncros from the S14 boxes on 2nd and 3rd. A new billet main shaft to suit the S13 cases had to be made, as well as special cluster shaft, idler gears, selector forks and a short shift conversion. After deciding on the ratios, everything was designed and sent into production - to be followed by more waiting.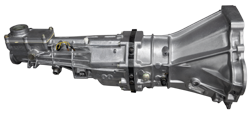 Once internally milled, the block was bored to 88mm - some bores being offset to optimise wall thickness. More sonic testing followed to confirm, and then further fine tuning of bore centres before another cut to 89mm and yet another round of sonic testing, just to be as sure as possible. As useful as sonic testing is, it's not an absolute science and one can be caught out when dealing with such small tolerences.
As these 'big bore' blocks are so difficult to find, the finished bore size is left 2 thou under the nominal 90mm. That way the block can be honed several times during subsequent freshen ups, still allowing use of 90mm piston rings. The initial build requires minor filing of ring end gaps to enable this.
Greg sent out his OS Giken twin plate flywheel and clutch to be accurately doweled with three 10mm dowel pins to the crankshaft.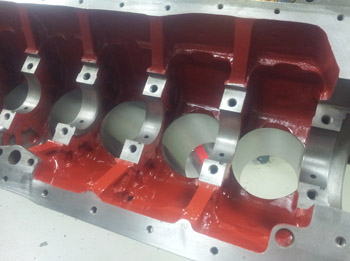 The inside of the block was then hand finished and painted and the short motor soon went together. It was agreed that the compression ratio would be 11:1 which is ideal for the design of the engine and also allows for the fuel available in California.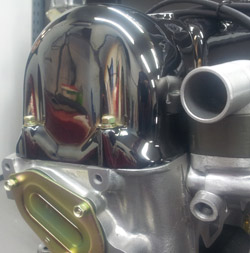 As beautiful as the 50mm Mikunis looked on arrival, we decided to have them water jet blasted along with all the alloy components from the engine to provide a durable new-looking finish that would last for years to come. All the steel components were re-plated with the same rationale. To set the engine off in the Green Hornet's engine bay, Greg had the idea of doing something different with the tappet cover – it went out to be black chromed!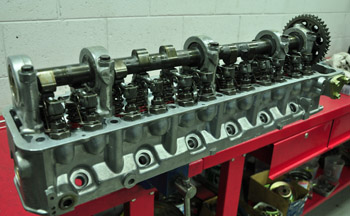 By now the engine was starting to take shape. The head was completed, all ports flowed and the figures finalised - it was time to get it all together. The valve train was set up, seat pressures set, and the wipes optimised for the cam on new genuine Nissan rocker arms. From this point the engine came together relatively quickly. Arizona alloy sump, ATI balancer, Bosch High Energy Ignition system all being added to almost finalise the build.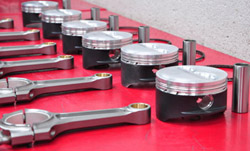 The carburettors were re-assembled and thought given to the design of their heat shields. Painstaking care and considerable time was taken on these two vital components to ensure the intake system was perfect and protected from exhaust heat.
Our specially designed and tested extractors had been given the ceramic coating treatment and after bolting them up, standing back and admiring the view (and taking many photographs) it was time to head off to the dyno for testing.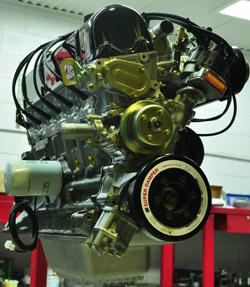 All the LCR engines are tuned and tested on a third-party owned Super Flow 902 engine dyno - for independently authenticated power and torque readings - before being installed or sent off to their owner. With its distant destination in mind, Greg's was tested somewhat more than most. With clear expectations of the engine's performance, the testing had a dual purpose - did it deliver the figures and could it handle sustained loads. With some 80 litres of fuel used and many full throttle endurance runs, it was determined that the engine met or exceeded all expectations and that it was ready to be introduced to the Green Hornet.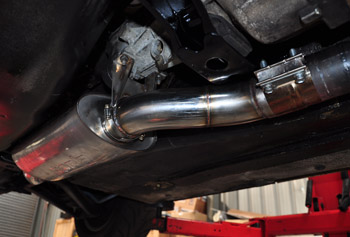 The gearbox components finally arrived soon after the engine was finnished and so began a first assembly with meticulous checking and adjusting of clearnces and, when ready, its final assembly. Once complete the engine and gearbox assembly was installed into a spare 240Z in the LCR workshop. A 3" stainless steel exhaust system was then built for the car that would meet Greg's road requirements without detracting from the engines power output. Comprehensive roadtesting of the full package ensued.
Removing all the components from the car, giving them a last loving polish, wrapping and packing them in their custom made crate addressed to Greg in California were the final scenes of another, most satisfying, Les Collins Racing major production.
The last wait was for the components to arrive and be fitted into the Green Hornet, to get Greg's impressions, and then to see the video, which takes up the story from here…