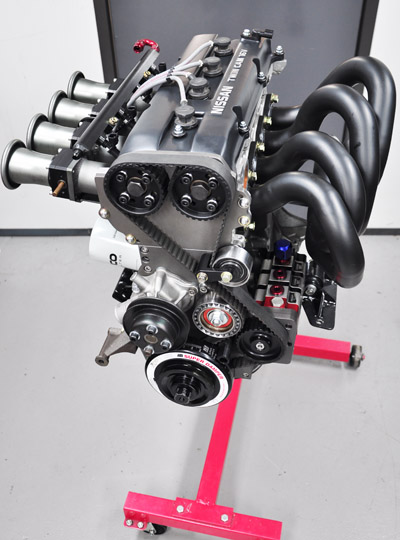 What the ..... ?
Well, father and son Bruce and Grant Gow had been running a 200 bhp 2.4 litre L20B engine in their P510 club race car and in 2007 decided they were ready to step up to something more powerful. They decided they wanted something different and unique and they knew where to go.
So began the project to build a 300 bhp engine.
It was decided to start with a Nissan Z24 block and adapt the front wheel drive KA24, 16-valve head. 2600 cc was achieved using a 104 mm stroke, billet crankshaft and 89.5mm bore with custom designed forged pistons. These were linked via Carrillo con rods and all set up at 11:1 compression ratio.
Dry sumping was chosen to allow the engine to be fitted as low as posible in the car, and from this decision the idea evolved to integrate the oil pump drive into a belt drive assembly for the camshafts. This necessitated the design and engineering of a complex front engine plate integrating oil pump mount, belt tensioner and guide wheel, water pump, crank and camshaft oilseals and oil galleries to feed the block.
The cylinder head required significant porting to achieve in excess of 300 bhp of potential inlet flow. Inlet manifold and exhaust extractors were hand fabricated to do the job and to fit into the P510 with the engine moved low and somewhat rearward. A small diameter flywheel was custom made and fitted with a SAACS alloy clutch, the starter motor mounted to the bell housing.
As with many of these custom build projects, it stopped and restarted several times but has culminated in a magnificent looking and performing powerhouse.